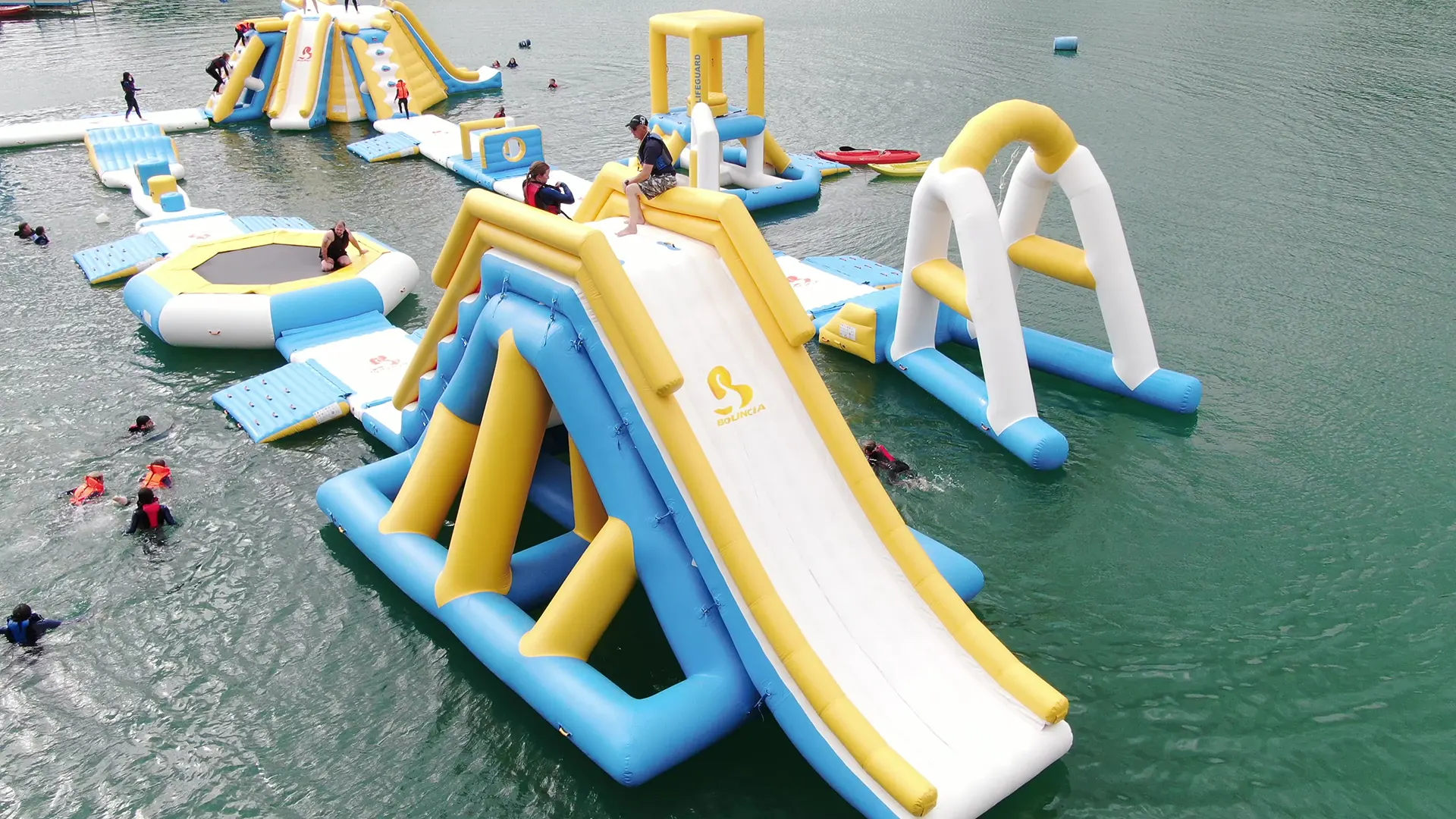 Aquaparks can be a lot of fun, but it's important to be mindful of safety precautions to ensure everyone has a great time. Here are some tips for staying safe at our aquapark:
Follow the rules: Our Aquapark has specific rules and guidelines that must be followed for the safety of everyone. Make sure to pay attention to the safety briefing and follow these rules, such as not running or pushing others in the water, and using proper safety equipment as instructed.
Wear proper swimwear and wetsuits: Make sure to wear proper swimwear that covers your body and is appropriate for the activities you'll be participating in. Avoid wearing clothing that is too loose or can easily come off, as it can pose a safety hazard in the water. You will be offered a centre wetsuit, and we recommend that you wear it (a wetsuit is compulsory for youngsters).
Stay hydrated: Spending time in the sun and water can dehydrate you quickly, so make sure to drink plenty of water to stay hydrated. Drinking water can also help prevent heat exhaustion and sunstroke.
Take breaks: You have a whole hour on the aquapark, so it's not a race! Taking breaks to rest and relax can help you avoid overheating and stay refreshed. It's also a good idea to reapply sunscreen regularly to protect your skin from harmful UV rays.
Know your limits: Don't try to do more than you can handle. If you're not comfortable with a certain aquapark feature, don't feel pressured to tackle it. It's better to be safe than sorry.
If you have young children with you, you'll need to be on the aquapark with them, so make sure to supervise them at all times, and give them a helping hand where needed. Teach them about water safety and make sure they understand the rules of the aquapark.
In conclusion, taking a few precautions can help ensure that everyone has a safe and enjoyable time at our aquapark. So, make sure to follow these tips and have a fun, but safe, time in the water!